Posted by Barry Claasen
On March 17, 2021
Wednesday, the 24th of February we had a Webinar in one of our schools, Trimurti in Surabaya. Sacha Stevenson was our main speaker.

Who is Sacha? Well, Sacha Stevenson is a YouTube content creator, from Canada, based in Bali. She has a lot of followers on YouTube where she is posting a lot of interesting videos. Talking about celebs, cooking, Indonesia and lots more. She also helps learning English with these videos, gaining views from 30.000 up to over millions, she has nearly 1.3 million subscribers.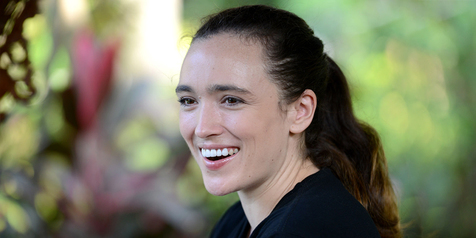 In this Webinar the title "How to speak English like Jackie Chan!" She explained that English grammar is very important, but having confidence in what you do is even more important. Jackie Chan, Sacha started, does not speak perfect English. His martial arts taught him that it is no problem to make mistakes, you fail and fall many times, standing up and learning from mistakes improves your confidence. And that is what made Jackie, the popular and famous actor he is right now, continued Sacha. She showed a video of Chan, where he uses sentences like: "Many days on the set I am fight-fight-fight…", where the right English uses "fighting". The point Sacha and Jackie wanted to make was, "speak" even though you make mistakes, don't be shy, the people around you will try to understand what you say. Don't worry too much!
There were over 300 students watching and listening to Sacha and they had a couple of questions as well.
The host, Mr. Iwan from Trimurti, has done a great job connecting all of it together. And we look back on a fabulous webinar!
(End of Post)